See details
Mini Dehumidifier WDH-898MD
Mini dehumidifier WDH-898MD with a dehumidification capacity of up to max. 750 ml / day. The intelligent mini dehumidifier WDH-898MD uses a Peltier condensation technology (compressor-free Peltier principle without refrigerant). This technology has the great advantage of making the unit small, quiet and light. Thus, this mini dehumidifier can also be used well in very small rooms, chambers and cupboards etc. !
---
Market price:
€99.00
Save 24%
including MwSt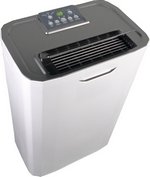 See details
Adsorption dehumidifier WDH-DS3
This modern adsorption dehumidifier is the ideal drying device in unheated (cold) rooms and generally at low ambient temperatures. This is where it shows its strengths, as conventional dehumidifiers with refrigerant and compressor technology are very inefficient at temperatures of 1°C ~ 15°C. Thus, the WDH-DS3 still dehumidifies up to a strong 9 L/D at temperatures around approx. 8°C and 80% r.l. ! The adsorption dehumidifier impresses with a very clear control panel with LED display, three air circulation levels, standard mode, auto mode, dry mode (turbo), continuous operation, air purification mode as well as timer function ! The unit offers high quality at a good price-performance ratio with easy handling !
---
Market price:
€269.00
Save 19%
including MwSt