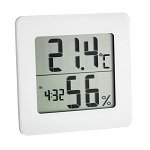 See details
Digital thermo-hygrometer with clock
Elegant hygrometer / thermometer with clock and alarm for indoor installation. Minimum and maximum values of temperature and room humidity are stored and can be called up at the touch of a button. Battery operation.
---
Market price:
€25.00
Save 21%
including MwSt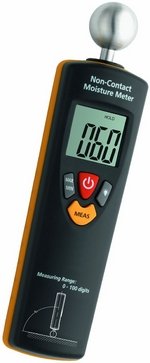 See details
Moisture Indicator HumidCheck
Moisture Indicator / Moisture Meter for detecting moisture in walls, ceilings, floors and wood. The electronic moisture indicator "HumidCheck" with non-destructive measuring process is a high quality product. It has a backlit digital LCD display and a flexible ball probe for non-destructive detection of moisture in building materials of all kinds and for detecting moisture distribution in walls, ceilings and floors. Furthermore, the device reliably displays the moisture content of wood and many other materials. The operation is very simple - touch the measuring object with the measuring ball, press the measuring key and read the measured value. With this easy-to-use pocket-sized rapid-moisture indicator you can, for example, track your drying progress on the object quickly and reliably during the operation of a dehumidifier / building drier !!
---
Market price:
€99.00
Save 24%
including MwSt